Workgrid & Igloo announce a strategic partnership to improve the digital employee experience
Today's employees are overloaded with information in the workplace. The number of systems they need to navigate in the course of their work is overwhelming, causing significant communication and productivity issues throughout the business.
Employees need help. Specifically, they need a simplified, streamlined way to engage with enterprise technology.
That's why Workgrid has recently launched a partnership with Igloo Software. This collaboration pairs the power of a next-gen intranet platform with the utility of a digital assistant to improve the digital employee experience and solve the challenges plaguing the digital workplace today.
Here's how…
Building a modern, intelligent digital workplace
Igloo is an award-winning cloud-based intranet platform that delivers modern features and capabilities that improve the way your organization communicates, shares information, and engages with employees.
On its own, the Igloo platform is packed with features to help you build and sustain a thriving digital workplace, including blogs, wikis, calendars, forums, multimedia and more.
This is a great foundation for your digital workplace - one that's made even more powerful with the addition of the Workgrid Digital Assistant.
The Workgrid Digital Assistant integrates with the Igloo intranet as a pervasive toolbar that stays with employees wherever they go on the site. It aggregates all the important tasks, information, and communications employees need from applications across the enterprise to create a single, connected employee experience.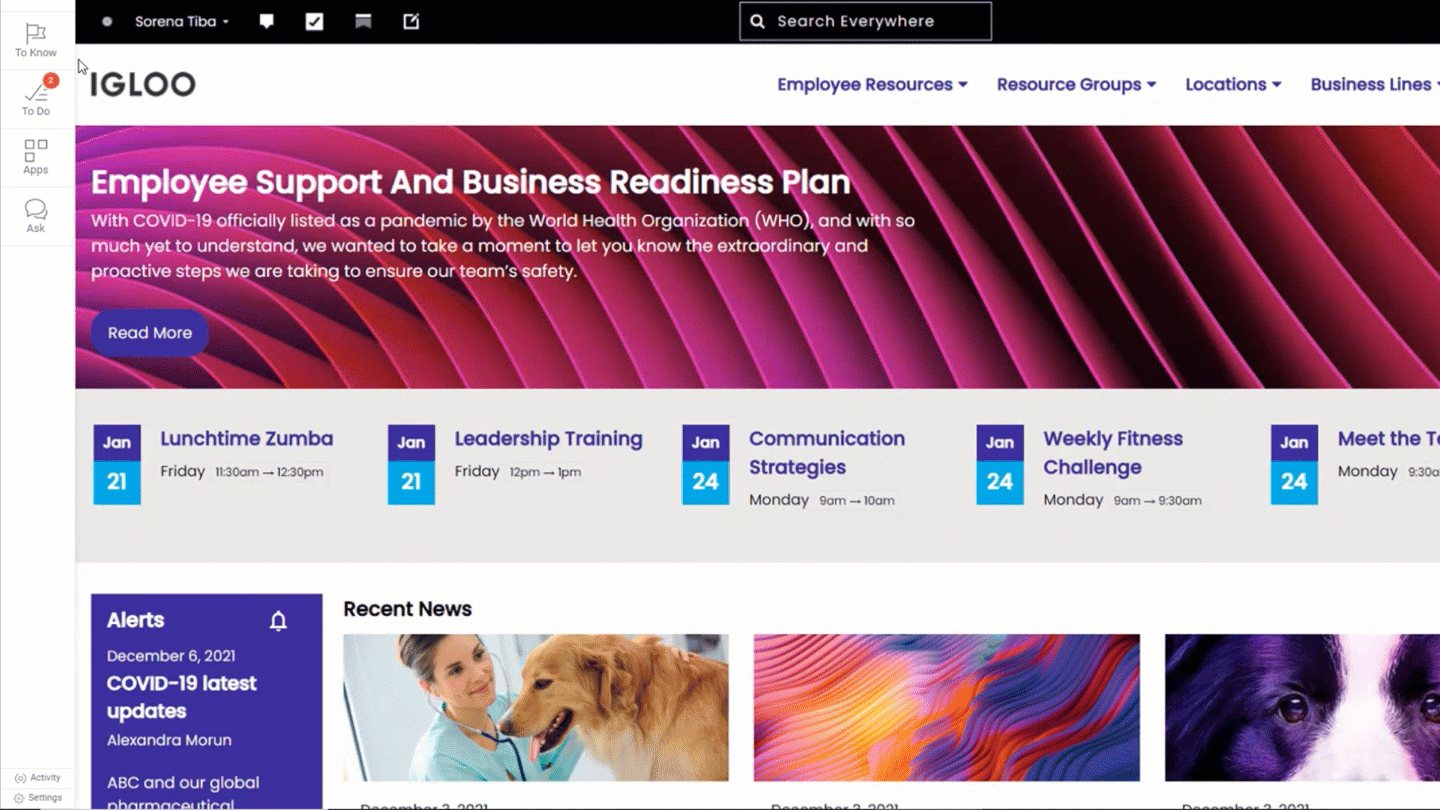 The Workgrid Digital Assistant provides employees get a single, connected experience that:
Guides attention to what matters most, with centralized notifications personalized to each employee, including communications, system events and reminders, recommendations, nudges and @mentions.

Reduces digital friction, eliminating the need to log in and out of disparate applications by enabling employees to execute tasks such as executing approvals, submitting time off, ordering equipment, or processing procurement requests, all from a single location

Makes it easier to find information, people, and documents using a natural language. chatbot that provides users with fast, personalized answers to common questions. It also facilitates the service desk ticketing process, making it easy to keep track of incident management tickets for solutions like ServiceNow, Jira, and Zendesk.
Benefits of Igloo + Workgrid
By combining the power of an Igloo intranet with Workgrid, organizations can go beyond having a simple intranet portal that fights for attention. Instead they can create a digital workplace that's a hero for this new age.

The benefits of using Igloo + Workgrid include:
Improved employee experience – streamlining the digital work experience for employees by providing more efficient access to the tasks and information they need and care about.

Higher visibility for important information – delivering the right communications to the right employees at the right time, from a central location that's sure to be seen.

Increased engagement – providing employees with a modern, intelligent, consumer-grade experience that aggregates information from your back-end technology stack through a single digital destination. 

Better productivity – eliminating time-wasting distractions by putting important tasks, information, and communications into the flow of work, so employees have more time to focus on what really matters.
Building a better digital workplace
The Igloo + Workgrid partnership is your key to a modern digital workplace. Learn more about how Igloo + Workgrid can help your organization create a engaging employee experience that keeps employees productive and engaged. Workgrid also integrates with most other intranet platforms. Learn more.